Author: Melissa Talago
Images: Gez Rowlands.
I opened my eyes, slightly confused by where I was. Above me was a blanket of darkness except for pinpricks of light coming from a sea of stars millions of miles away. The almost full moon that had been lighting up the sky earlier had dropped beneath the horizon and the sun had not yet made an appearance. Steady white noise of the river rushing past muted all other sounds, not that there were many. Even the birds hadn't roused themselves yet. It was that heavy pre-dawn quiet where the world truly rests.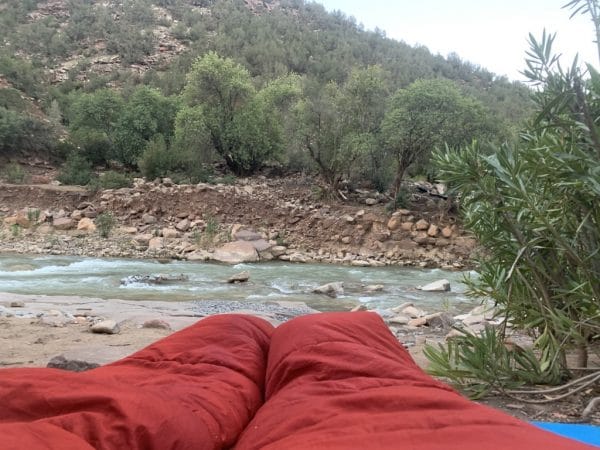 Despite the soporific combination of a toasty sleeping bag and the shushing of the river, I couldn't sleep as I kept a look out for shooting stars and passing satellites and reflected on the past few days spent rafting down the Ahansel River in Morocco.
Almost a year ago, I met Hamish McMaster who runs Water By Nature, a specialist in white water rafting trips around the world. Thanks to Covid, I hadn't been able to experience one of his trips or the world he inhabits, but finally the borders opened up and I had the chance to join him as he took customers to see parts of Morocco that few people get to see. The snow melt from the Atlas Mountains means there is a short window of about three weeks in late March/early April to explore the gorges of this beautiful country by raft or kayak.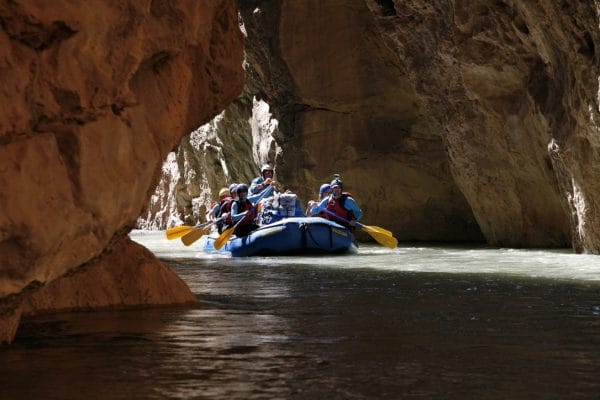 Having done day rafting trips in Switzerland, New Zealand and on the Zambezi previously, I thought it would be all about the white-water rafting, high octane adrenalin, getting soaked through, telling stories about boat flips and big drops. I was wrong. For a start, Hamish is all about safety and tries to avoid boat flips wherever possible. And while I'm sure other rivers around the world provide more blood pumping drops for adventure junkies, the Ahansel is a gentler river, better suited for families. But that doesn't make it any less of an adventure. Because these trips are not about the rafting, really. They're an expedition. A chance to see a new place every day, wild camp in epic scenery and to truly get back to nature without phone signal or mirrors to see just how messy your hair is. It's a chance to disconnect from the real world and simply be in beautiful, remote places.
After a day in Marrakesh, we headed out on a 4-hour drive past the Atlas Mountains with views of Mount Toubkal to our first camp. Situated on the banks of the Ahansel River with La Cathedrale, a magnificent half dome rock, as a backdrop, we got introduced to camp life. Comfortable tents had already been erected, sleeping bags and thermarests provided, chairs circled a blazing fire and G&Ts with ice were served along with campfire popcorn. We were introduced to the toilet facilities, a portable loo tucked behind some bushes, with a teepee of paddles at the entrance with a helmet perched on top. If the helmet is missing, someone is in the loo. It's a basic system but it works. An innovative handwash system is setup near the loo and the food area, ensuring no one gets ill. As we settled in around the fire getting to know our fellow campers, dinner of burgers with fries that would give Five Guys a run for their money was served, followed by brownies.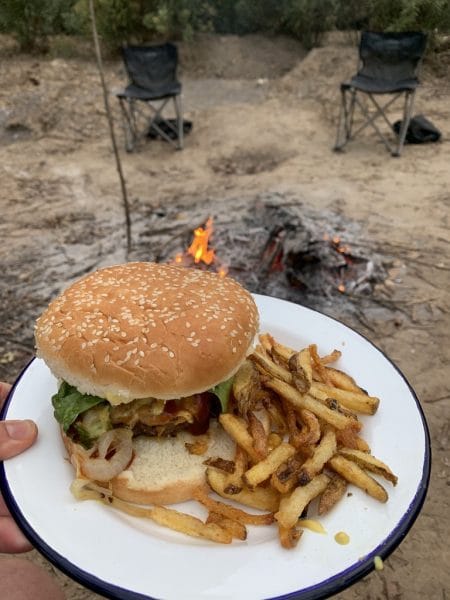 Waking the next morning, after fresh fruit and omelets, the packing commenced. It's remarkable how much stuff is needed for a group of 10 people, all of which must be loaded onto three rafts. Meanwhile we got a safety briefing and had to wriggle into our wetsuits, buoyancy aids and helmets that we'd had fitted the day before. Finally, all the gear was cam-strapped into place and we were ready for the off.
And thus commenced a pattern that would repeat itself for the next four days. Paddling in unison, looking for the river lines to run, occasionally having to push and pull the rafts off rocks due to low water levels, getting in a rhythm and having a laugh. We broke for lunch, which was somehow instantly magicked and elegantly served by the hard-working guide team. Fresh salads, cold fizzy pop and cookies refuelled us, before we cast off again. At one point the gorge narrowed to a raft width, feeling like a water chute at a theme park, before popping us out into a natural swimming haven near the village of Tiloguite. We paused there to refuel a gas cannister, letting the local kids splash about on the duckie (an inflatable kayak) giving them a huge amount of fun and us a chance to experience the local people.
We paddled on to our camp for the night, another gorgeous setting only accessible from the river or narrow footpaths frequented by goats and their herders or local fishermen, one of who watched in bemusement as I attempted a wash in the ice-cold river. The menu that evening included nachos and fajitas and banoffee pie, with cold beers and chilled wine, a far cry from pot noodles or dehydrated food sachets I'd expect on a typical camping trip! Everyone collects wood for the fire, which we watch hypnotically until heavy darkness reminds us to go to bed.
Another two days of the same, with the scenery and the campsites getting increasingly beautiful, and the food even more extraordinary – campfire lasagne and garlic bread, cake made on the fire, individually made pizzas, pancakes with bacon and maple syrup….If I'd hoped to lose some weight from all the paddling, I was mistaken. Even a hike up to a casbah with stunning views down to the river, probably didn't burn quite enough of the calories consumed. In contrast, the endless energy of the guides saw them cooking, cleaning, packing, rafting, looking after our safety and entertaining us all. It was a well-oiled machine that had obviously been honed in the 25 years since Hamish started it up.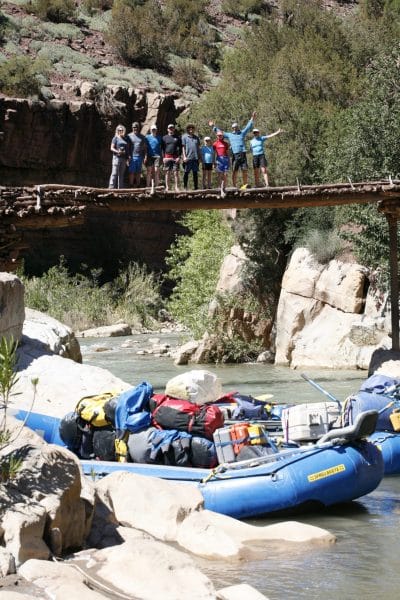 He seems to have landed on the perfect formula with the right level of comfort and adventure, not to mention a stream of light-hearted ribbing, F-bombs and abuse dished out in a Kiwi twang. These are not trips for hardened adventurers who want to head off on their own to unknown places with only themselves to rely on. Equally they're not for people who need to use hair straighteners daily or don't get excited by sleeping outdoors. But for those people who want to head off the beaten track, see places most of their friends probably haven't, who love being in nature, who want to experience some of the challenges of going on an expedition without the faff of trying to organize logistics in hard-to-reach places or wasting precious leave time getting things wrong, all while having the exhilaration and sheer joy of splashing over rapids, these are your tribe. The trips run in 14 different locations including Nepal, India, Peru, Chile, USA, Canada, Colombia, Zambia, New Zealand, Papua New Guinea, Australia, Morocco and Switzerland with sailing trips run in Greece and Croatia.
As the sun rose on our final morning, I watched as the black of the night sky transformed to violet and then a washed out white as the sun slid over the horizon. I knew it wouldn't be long before it changed again to bright blue. I sat up, drinking a strong coffee that had been delivered to me as I snuggled in my sleeping bag and sat transfixed as the sunlight slowly crept across the sheer rock at the end of the gorge, gradually turning the shadows into gold. The birds were up and cajoling us to do the same. I heaved myself up and into some cleanish clothes, feeling slightly less grubby after a makeshift bath of warm water in a bucket the night before. It was time to pack up one last time and head through the most spectacular scenery yet. But first, I walked to the end of the beach, sipping my coffee, watching the water swirl past. Driftwood bumping over and around the rocks reminded me of how life can take you to places you don't necessarily expect to go, but sometimes its good to simply follow the river and go where it leads. Because it may lead to somewhere vast and amazing, like the hidden gorges of Morocco and an entirely different life experience.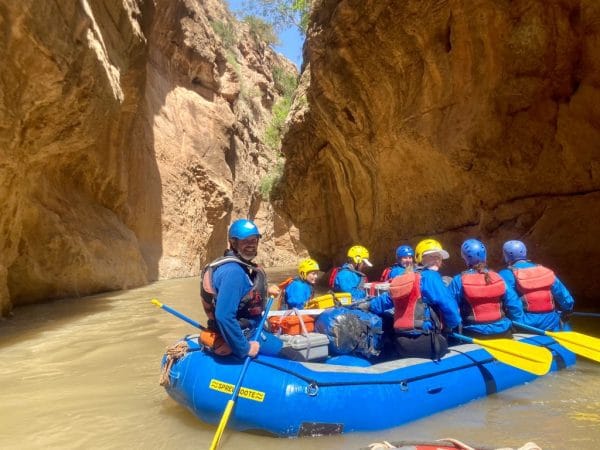 We set off once again and passed through sheer gorge cliffs 400 meters high that made me want to breathe in as we squeezed through the gaps, while simultaneously having my breath taken away by the sheer beauty of the shards of sunlight dancing on the water. Eventually we rowed out onto the dam at Bin El Ouidane, before getting a tow across to our luxurious hotel the Widiane. A huge bed to stretch out in and bath to soak away the dirt were bliss, and while the traditional Moroccan tagines served in the restaurant were tasty, I missed our  campfire food with the tang of woodsmoke eaten under the stars.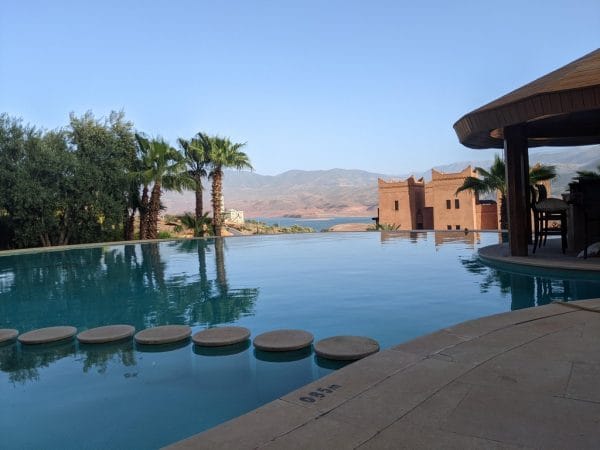 After a long drive back to Marrakesh, we had time to swim at Le Meridien N'Fis, our lovely hotel for the night. or head out to the Souks to soak up the atmosphere or get some retail therapy in before getting a horse-drawn carriage amongst crazy taxi and moped drivers.
I arrived in Morocco stressed out from work, pale from hours in front of a screen. I left carefree, with colour in my cheeks and a huge smile of my face. It was the battery recharge and reminder I needed that there is so much beauty in the world just waiting to be discovered. And it's entirely possible to go find it. Hamish has made that possible.