Water By Nature is known for our white-water trips around the globe, so why the pivot into sailing? We love nothing more than being on the water, whether that is floating down the Zambezi, meandering through the gorges on the Ahansel River in Morocco, or island hopping in Croatia on board a beautiful sailboat.. As a kid, I grew up sailing on Auckland's Waitemata Harbour with my family and also raced 470's and P class. I loved it.  A few years ago, as a company, we decided to offer small group, personal sailing adventures in iconic destinations so that I could share this passion for yachting.
If you're wondering what these holidays are like, read on:
Where will I sleep and shower?
Our yachts range in size from 50-65 feet long and traditionally have 8-10 berths (places to sleep) onboard. Most cabins are share twin – good for friends travelling together – or double beds – best for couples. We do have some capability to take single travellers though. Most cabins have their own 'head' (toilet) with a shower and wash basin. Each cabin has plenty of space to store your luggage, although we do suggest you bring a soft duffel bag, which can be easily rolled and popped in your storage areas. Sheets, duvets, pillows and towels are provided. There is a small galley (kitchen) and dining area downstairs but we typically spend most of our time up on deck, enjoying the gorgeous weather.
What is a typical day onboard like?
Relax. The pace on a boat is very laid back and we tend to have quite 'lazy' starts. Your skipper will be up early to make coffee for you and we tend to have breakfast on board most mornings. Pancakes, fresh fruit, yoghurt and cereal along with cooked breakfasts too. Given the sunny climates we go to, it's typically breakfast with a view in  some gorgeous cove. In one of the fabulous bays we stop at on our Croatia trip, we get freshly baked croissants, pain au chocolate and apple strudel delivered fresh to the boat! If we're moored up in port, you're welcome to grab an espresso from a local coffee shop.
You might want to have a refreshing morning dip before or after breakfast – no better way to wake up! The wide platforms on the back of the yacht make it easy to get into and out of the water, and the outdoor shower lets you rinse off.
We'll depart for a morning on the water, where you'll have the chance to sail under the expert guidance of one of our team. It is a great skill to learn and many of our guests keep coming back, once they fall in love with being at the helm. Some days there is very little wind and we have to motor, which ends up being a chilled out chance to chat or read or sunbathe. On others, a steady breeze will give us fabulous 'windows-in-the-water sailing', guaranteed to put a smile on your face.
Around midday we'll drop the sails and find an tranquil cove to stop in for some lunch. Typically these are fresh salads, wraps and cookies, washed down with a cold beer or glass of wine. There'll be the chance for another swim, possibly with some snorkelling or just laze in the sun on the foredeck.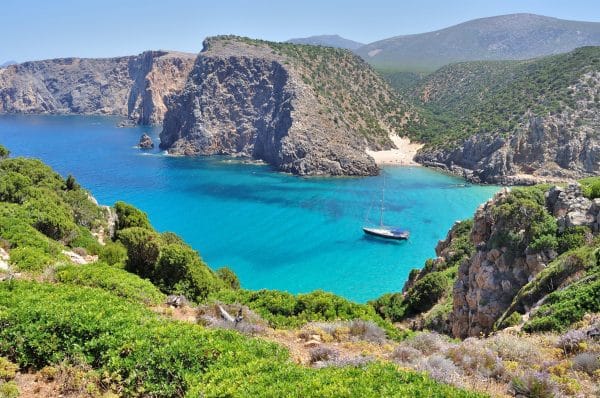 The afternoon sees more sailing to some idyllic bay or small port where we'll moor for the night, take a dip and enjoy some sundowners on board such as wine and cheese and antipasto before heading into a beautiful restaurant for dinner.
How Do We get To Shore?
On some nights, we will moor in a harbour by backing into the mooring, so you can easily get on and off the yacht. We do this for a couple of nights in Croatia in both Hvar in the port of Starigrad and Vis. Often on our Greek Isles sailing trip we stop for a night in the iconic port of Hydra. Quayside mooring a great way to explore the small ports, browse the shops and local markets at your leisure, or find a quayside bar for a chilled drink while you watch local life pass by. On other nights, we will find far more secluded spots where we'll drop the anchor and take the dinghy ashore. On occasion, we may even have an amazing barbeque on board.
Will I Feel Seasick?
This is highly unusual. Even if you have felt seasick before, the motion of a monohull yacht is very smooth, cutting through the waves. If you do have a propensity to feel sick, we suggest you stay on deck rather than down below while we sail and perhaps consider some seasick patches. In the evening we either moor in port or in a quiet and very calm bay out of the wind, so there will be very little if any rocking movement on board the boat. You'll get your 'sea legs' quicker than you think.
Where Are The Other Guests From?
Like our rafting holidays, we are fortunate to get guests from all over the world. Notably from the USA, the UK, Europe, Australia and Canada. Consequently, you'll have a whole lot of fun getting to know each other and often great friendships are forged..
What clothes do I need to take?
Unlike a cruise, a sailing holiday does not require fancy attire for evenings. When we head to restaurants, casual attire like summer dresses for the ladies or shorts/chinos and a button down short sleeve shirt or t-shirt for the gents is smart enough. On board, shorts, swimsuits, t-shirts – anything relaxed and comfortable. Very occasionally you might need a lightweight warm jacket and long trousers, particularly in October in Greece for evenings. But typically it's hot. Pack sunblock, sunglasses and a sun hat!
Where to?
Okay, cool, so you have decided that a sailing holiday is for you. It can be a great idea to ring the office and have a chat to me, and I can talk you through a few different options.
Croatia: Our most popular sailing trip for a reason. We travel there outside of the high season and you'll be treated to warm water, beautiful bays , stunning history and absolutely incredible food. You'll be taken to multiple Michelin Star restaurants on your trip. Foodies, this is your trip. With great wine added in you'll be left with a vast appreciation of what Croatia offers. But that's not all. We take you to the wonderful country of Montenegro for a stunning rafting trip on the azure waters of the Tara River. Take a few days at the end of the trip to explore the fascinating city of Dubrovnik.
Greece: Live out your Mamma Mia fantasies by island hopping around the stunning Greek Islands in the Aegean sea. Stop in Poros, Hydra and the stunning destination of Porto Cheli for a seaside meal with a difference. We take evening trips into the wonderful tavernas dotted along the shoreline, sampling wonderful food at each and every stop.  For history lovers, you will also visit the Ancient Theatre at Epidaurus and as we start in Athens, you are free to explore the Acropolis before or after our sailing adventure. The ideal time to do this trip is either in summer, or late  October when there won't be crowds.
Sardinia: Our latest addition to our sailing trip catalogue. Flying into Olbia, you'll board our 60-foot yacht and be amazed at the gorgeous bays, often with super yachts of the rich and famous. Just 8 miles to the north of Sardinia is the French island of Corsica – birthplace of Napoleon. We visit  the jaw-dropping port of Bonifacio with its lively marina and clifftop citadel. You'll love the variety of restaurants, nightlife and walks with incredible views back towards Sardinia. This is a wonderful destination to bring a private group to, so we can tailor-make your adventure.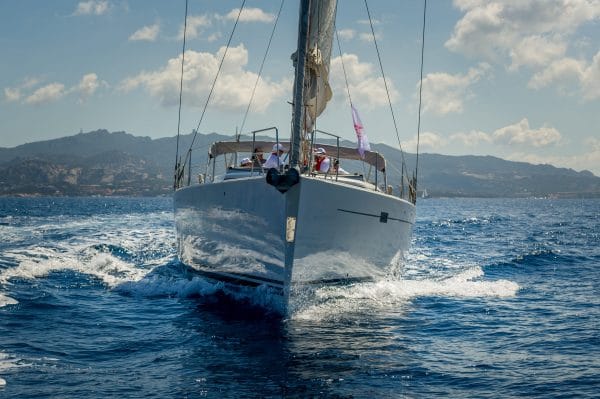 Whether you want to sail away as a single, couple, family group or bunch of friends looking to reconnect and make memories together, come and join us for one of our personal, fun-filled sailing trips to iconic European destinations. You will return home rested, tanned and ready to go again. See you on the water!