You're taking on the best white water rafting river of them all, but what are some other things you can do before or after rafting the Zambezi? After all, it's a long way to go and it makes sense to maximise your time in this beautiful part of the world.
Here are ten suggestions – seven local to the Zambezi, three further afield – to help you plan out your ultimate African experience.
Local things to do before or after rafting the Zambezi
Visit Livingstone Island

The perfect thing to do in advance of your Zambezi rafting trip,  jet out to Livingston Island on a powerboat. Learn the history of David Livingstone, the first European to discover Victoria Falls, before heading to the Devil's Pool. Bathe in the warm water at this natural infinity pool at the edge of the falls.  The views will take your breath away as the river thunders over the falls into the gorge below. Few experiences can top this and the location is only accessible with this trip.
Do a walking safari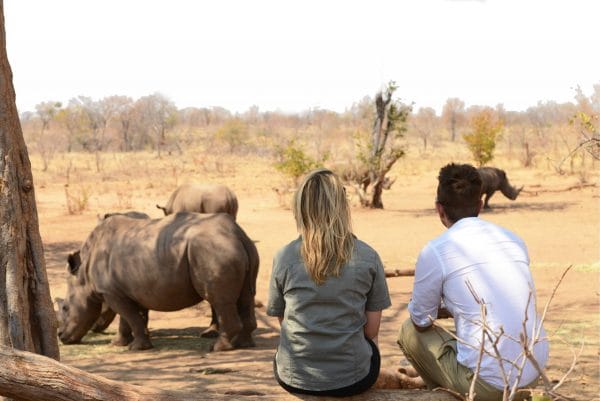 Experience Africa's wildlife up close by walking through the Mosi-oa-Tunya National Park with an armed professional guide who will offer insights into the local wildlife, flora and fauna. Study animal tracks,  learn about new bird species and discover medicinal properties of local trees and shrubs.  You will also have the rare opportunity to track the resident endangered white rhino while spotting giraffe, elephant and other plains game. 
Understand local village life 

Chief Mukuni's Village is a royal village, which was founded around the 13th century. It is home to about 7,000 Leya people. The chief has invited visitors into his village to get a glimpse of how his people have lived for generations and to learn a little about their traditional customs and beliefs. You can look inside the villager's huts, learn how they are built and decorated, meet craftsmen and women at work, and taste traditional foods and beer. This is a working village, not a tourist attraction and it is a privilege to be welcomed into their home.
Eat with elephants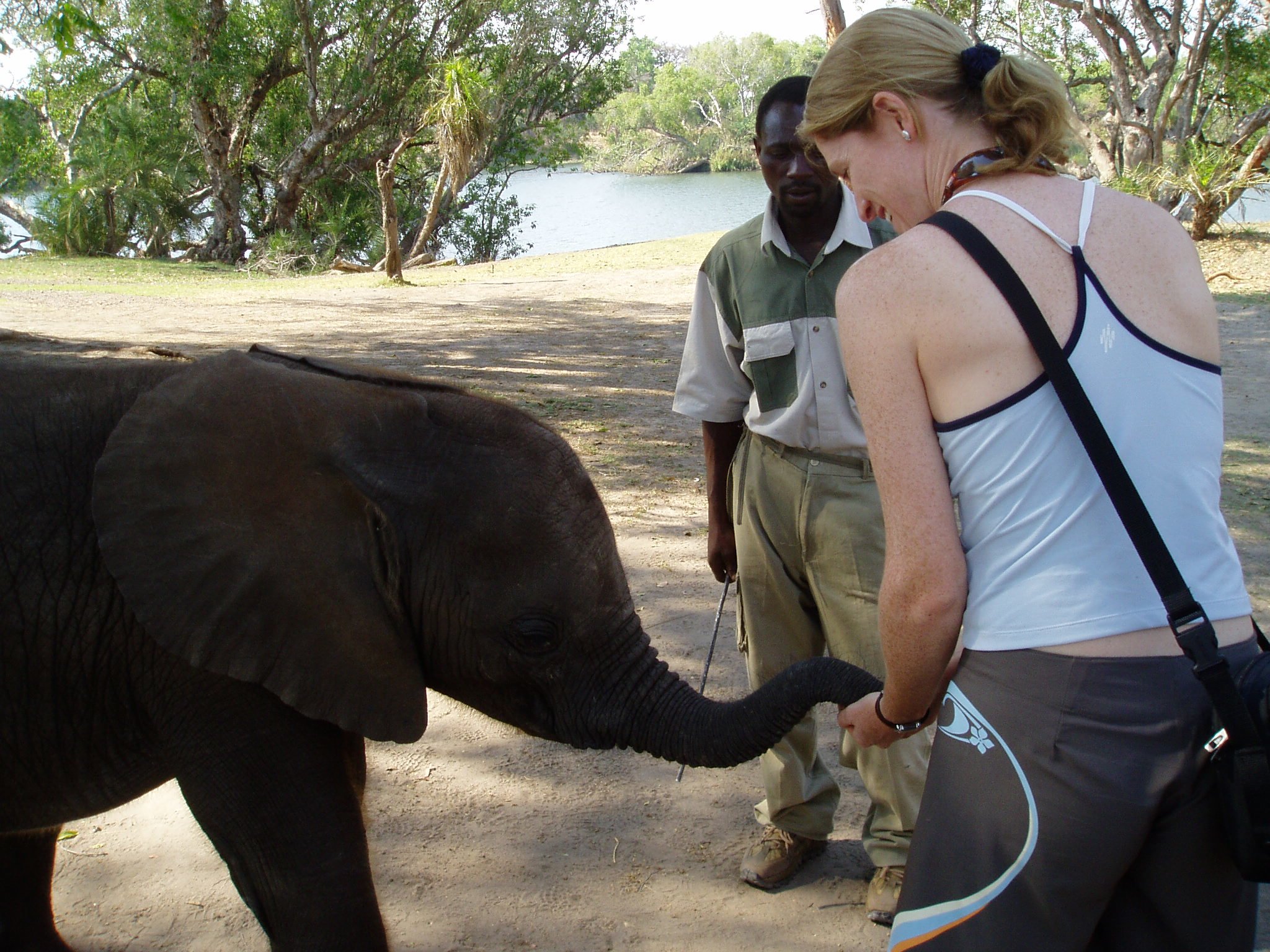 The Elephant Café, accessible by river or road, veers off the beaten track not only in location but with its  wild ingredients foraged locally by the chef who conjures up gourmet bush cuisine.  Upon arrival, you are greeted by a herd of resident elephants, gentle giants who have been rescued and now grace the grounds of this unique restaurant.  Seated upon a beautifully appointed deck, suspended over the Zambezi River, the diner's taste buds are taken on an African adventure. 
Get your adrenalin fix at Victoria Falls bridge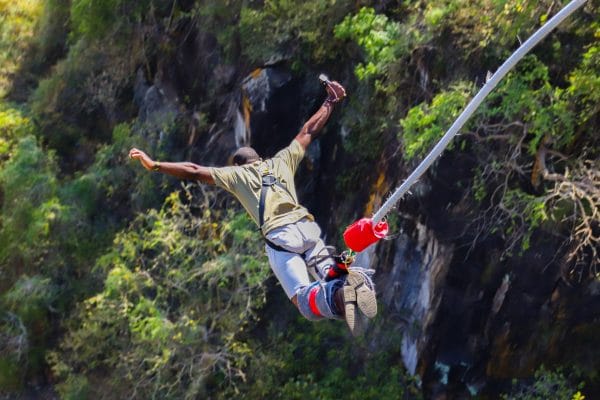 If rafting some of the world's best rapids isn't enough of an adrenalin rush for you, then take your pick of a bungee jump, bridge swing or zip line from Victoria Falls bridge. The bungee, at 111 metres and with four seconds of free fall, will take your breath away, not least because it's got Victoria Falls as the backdrop. The bridge swing turns you into a giant pendulum as you arc 80 meters over the Batoka Gorge, while the bridge slide lets you zip line 300 metres across the Zambezi river to the Zimbabwean side of the river. Whichever you choose, you'll get your heart racing!
Canoe alongside wild life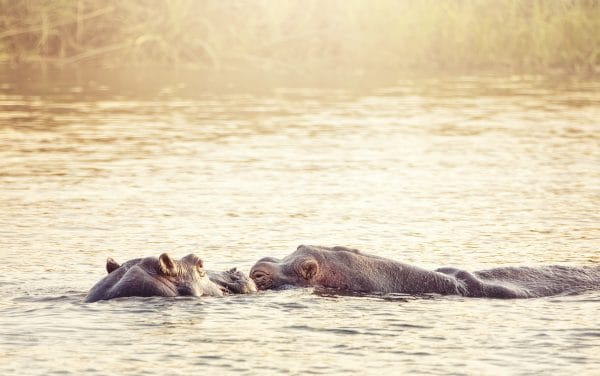 While the river beneath Victoria Falls provides some of the best white water in the world, above the falls you can gently drift down the river in canoes, appreciating the beauty, peace and wild life.  Spot elephant, hippos, birdlife and game as you paddle past the Zambezi Game Park and Mosi-oa-Tunya National Park.  There will be time to stop for something to eat and drink and listen to fascinating tales of David Livingstone's journey to the Falls.
Micro-light flight over Victoria Falls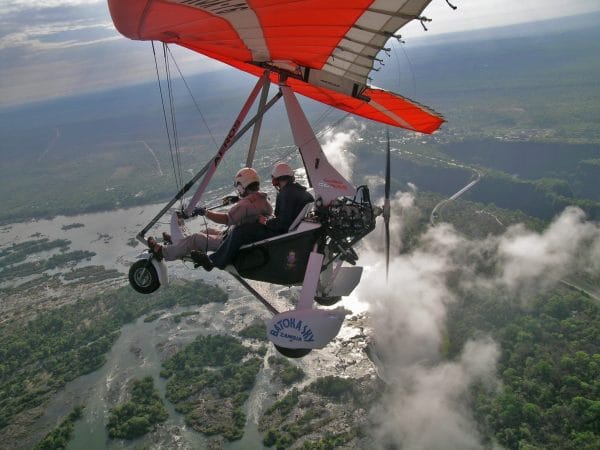 There are few ways to better experience flying over Victoria Falls than with the wind in your hair and a birds eye view from a micro-light. Flown by Southern Africa's best pilots, not only will you get to glance down in amazement at the beauty of the magnificent Victoria Falls – which is twice the height of Niagara Falls –  but frequently our guests also get to see wildlife on their flight back to the aerodrome.
Things to do further afield before or after your Zambezi rafting trip
Climb Kilimanjaro

At 5895 metres, Kilimajaro – Africa's highest peak – isn't for the feint-hearted. But being able to combine two major bucket list items in a single trip is absolutely worth it. Start in Tanzania and climb the mountain over seven days. Summit night will be something you talk about for the rest of your life and the sense of achievement is exhilarating. Water by Nature offers a combined Kilimajaro/Zambezi trip. Speak to us about suitable dates.
Go on a safari

Our Zambezi Blast rafting trip includes a safari to Chobe National Park in neighbouring Botswana but you might want even more time exploring the abundant African wild life. Try the Okavango Delta in Botswana, a wetland area named as one of Africa's seven natural wonders, or head to South Africa and explore Kruger National Park or any of the private game reserves in the area. The Pilansberg National Park is in the North West province of South Africa and is just a three hour drive from Johannesburg. Add in a stay at the Lost City at Sun City Resort for some added wow factor.
Explore Cape Town's Table Mountain and vineyards

With many flights to Zambia coming via South Africa, it makes sense to extend your stay in this beautiful country. A visit to Cape Town is high on most people's lists. Take a cable car up Table Mountain,  a boat trip to Robben Island or wander down the incredible white sand beaches. Add in a trip to some of the local wineries and celebrate your epic African adventure.
Tempted?
Speak to the Water by Nature team about how to combine rafting the Zambezi with any of these activities. Some we can book directly for you. Others we will recommend trusted partners who can help you make the most of your trip. Whatever you end up doing, Africa will capture your soul.
by Hamish McMaster
Hamish McMaster is the Water By Nature owner. He has spent the past 25 years exploring and playing on the world's great rivers. He still loves nothing more than getting out there and sharing adventures.
---
Recent posts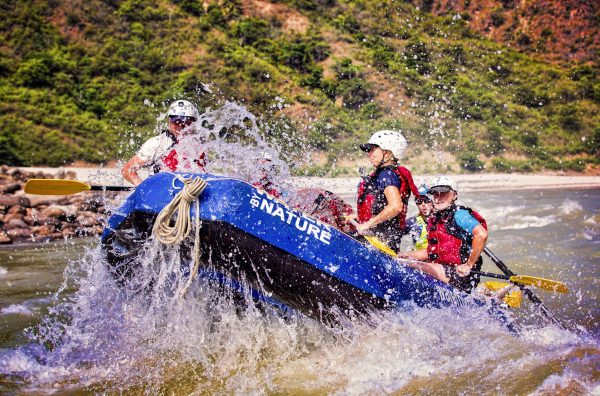 ---
Whitewater rafting the Tamur River in Nepal should be on your list of 'must raft' rivers. Fed by snow melt from the third highest mountain in the world – Kanchenjunga – the Tamur provides exceptional whitewater rafting. It has nearly 130 rapids over a 120km stretch, and almost continuous grade IV rapids on day one […]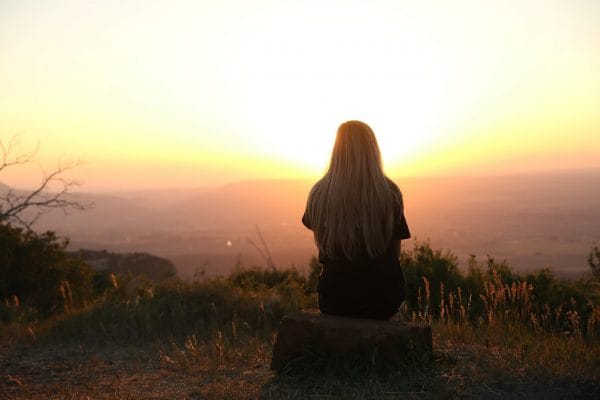 ---
Heading out on adventures makes us feel alive. The excitement of planning it, seeing incredible places, and having amazing experiences that broaden our minds – it's why we do it. But the act of 're-entry' back into normal life can be hard. While your world and outlook may have changed, the rest of the world […]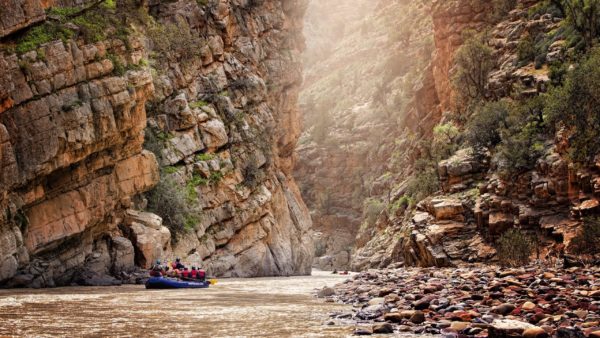 ---
The Kingdom of Morocco is a feast for the senses. Fragrant spices, busy bazaars, expansive deserts, soaring Atlas Mountains, incredible beaches and intriguing cities, it's a destination worth taking your time to explore. But why Morocco? For a country so close to Europe, it couldn't be more different. We often describe it to our guests […]