One of the biggest joys of going on a sailing holiday, are the wonderful ports and towns you visit along the way. With so many incredible places to stay on the islands in Croatia, here are some of our best picks to stop on a week long sailing vacation of the central Dalmatian Coast.
Trogir:
This wonderful starting point for many Croatian yachting adventures is a treasure in itself, known for its stunning architecture, rich history, and beautiful beaches, making it a popular destination for tourists and sailors alike. Trogir is located approximately 6 kilometres (3.7 miles) from Split Airport, which takes approximately 15 minutes by taxi. The town is situated on a small island connected to the mainland and the island of Čiovo by two bridges, which offer easy access to the town and its many attractions.
The history of Trogir dates back to ancient times, with the town being founded by Greek colonists in the 3rd century BC. Over the centuries, Trogir was ruled by various powers, including the Romans, Byzantines, Venetians, and Austro-Hungarians, each leaving their mark on the town's architecture and culture. The town's historic center is now a UNESCO World Heritage site, with its many churches, palaces, and other buildings showcasing the town's rich history. Now you are more likely to see 'yachties' heading back to their boats with provisions and tourists adorning the squares with a glass of Rose or cold beer in hand. There are some seriously amazing restaurants on offer here too!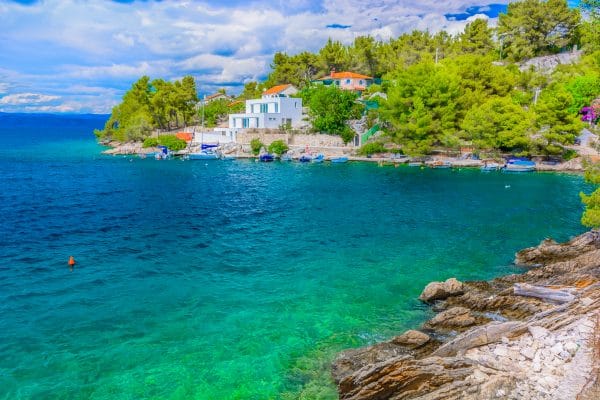 Solta:
It's only around 15 nautical miles to sail from Trogir to Solta, but the scenery along the way is utterly breathtaking. Once you leave the busy port of Trogir behind, a common stopping point is the island of Drvenik. It's a picturesque island that has a few anchorages, which offer excellent shelter from the wind. One of the best anchorages is in a bay on the south side of the island, where you can enjoy swimming and snorkeling in crystal clear waters and the perfect opportunity to anchor up for lunch.
From Drvenik, the next stop is often the island of Solta. The island has a multitude of gorgeous bays, which offer great anchorages for the evening for sailboats of all differnt sizes. One of the best anchorages is in Maslinica Bay, located on the western side of the island. There are also many restaurants and cafes in the town, where you can enjoy traditional Croatian cuisine, fresh seafood, and local wines. Another popular anchorage on Solta is Rogac Bay, located on the eastern side of the island. The bay is protected from the wind, and there is a small marina where you can moor your yacht. There are also a few restaurants and cafes in the town, where you can enjoy a meal or drink. If you prefer to anchor in a secluded bay, there are many options on Solta. One of the most beautiful is Stomorska Bay, located on the north side of the island.
Starigrad:
It's 25 nautical miles to sail from Solta to Starigrad. You approach into the natural bay through a large wide bay that gets narrower as you approach the town. As you approach Starigrad itself, you will see the historic town with its impressive fortifications and ancient buildings. The town is located on the northwestern coast of the island of Hvar and is one of the oldest towns in Europe. The harbour is well run and you'll have access to water and power is you get one of the many moorings available. Once you have moored your boat in the harbour, you can explore the charming town of Starigrad. The town is home to many excellent restaurants, where you can enjoy delicious Croatian cuisine and fresh seafood. Some of the most popular restaurants in Starigrad include Konoba Kokot, which is famous for its grilled fish and seafood dishes, and Konoba Lambik, which serves traditional Dalmatian cuisine. There are numerous souvenir shops and the obligatory ice cream shops, perfect with the hot days.
The town's historic centre is home to many ancient buildings, including the St. Stephen's Cathedral, which dates back to the 16th century. You can also take a walk along the waterfront promenade, where you can see the traditional fishing boats and admire the stunning views of the sea.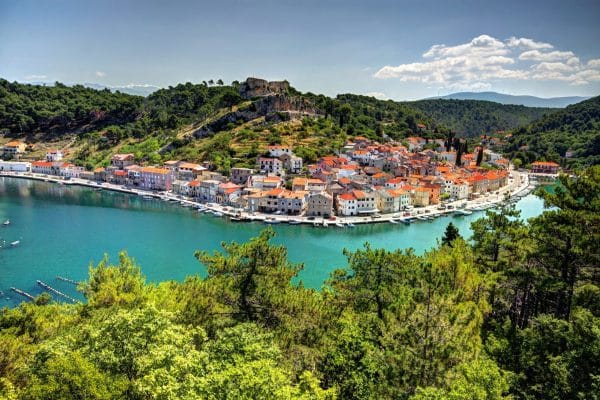 Scedro: 
This is one of our favourite places to stay on the Dalmatian Coast. Starigrad to Scedro is approximately 30 nautical miles. If you are looking to break up your journey a little, Brac is a gorgeous lunch spot with stunning beaches and azure blue water.
Once you arrive at Scedro, you can expect a warm welcome from the locals. Many of the island's residents make their living from fishing and agriculture, so you can expect to find plenty of fresh seafood and locally grown produce. Often, one of the local fisherman will come around the boats with a range of Croatian wines to try and buy! One of the highlights of mooring up in Scedro is waking up to the smell of freshly baked bread and pastries, which are often delivered to boats by the locals in the morning.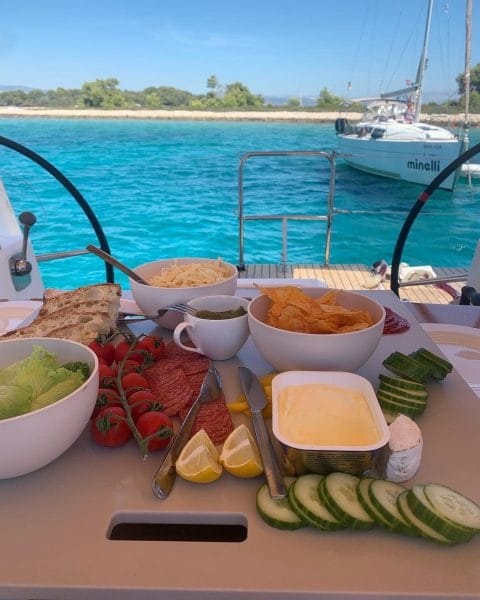 Vis:
The distance from Scedro to Vis is approximately 12 nautical miles. This leg of the journey takes you through the sparkling open waters of the Adriatic Sea, and you can expect to encounter some stunning scenery along the way, including rugged coastlines, clear blue waters, and possibly even some marine life such as dolphins.
Vis is a favourite place to stop and stay. When you arrive in Vis, you will find a charming harbour town with a rich history and a unique character. The town of Vis has been inhabited since ancient times, and there are many historical landmarks and cultural attractions to explore, including the remains of an ancient Roman theatre, a 17th-century Venetian tower, and a number of old churches and monasteries.
There are numerous moorings for yachts along the harbour wall, but in high season, you'll need to get in early. It has all the usual amenities such as water and power, along with a fabulous array of cafes. bars and restaurants. Some of our favourites are:
Konoba Lola – This cozy family-run restaurant is located right on the waterfront and serves up fresh seafood and traditional Dalmatian dishes.
Pojoda – This popular restaurant is located in an old wine cellar and offers a unique atmosphere and a creative menu of Mediterranean-inspired dishes.
Barilo – This restaurant is located in a historic building in the heart of Vis and serves up a range of delicious seafood and meat dishes, as well as a selection of local wines.
This Croatian sailing adventure is a simply wonderful insight into this fabulous country, its friendly people and incredible food.